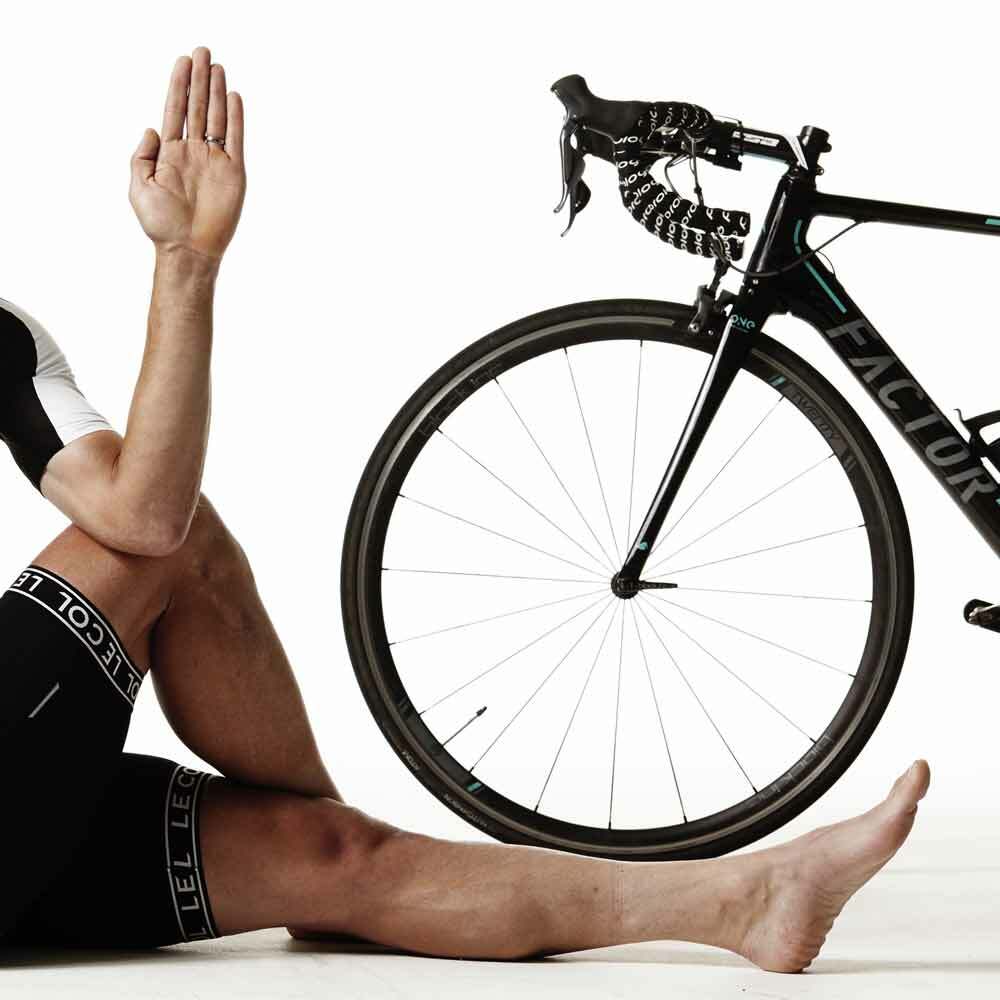 Designed for beginners and experienced practitioners alike, in this workshop you will learn how to realign your joints, stretch tight psoas, quads and glutes and prevent wear and tear from cycling. Find out how to increase your pedal power and reduce your risk of injury with this 75-minute workshop by Michele Pernetta.
Date

Saturday 28th of April 2018

Times

2:45-3:45pm

Locations

Fierce Grace Primrose Hill
Add to calendar View map

Share

Cycling has many benefits, such as strengthening the lower body, cardiovascular benefits and the mental relaxation of exercising outdoors. However, it can potentially wreak havoc on your posture, by rounding the body forward, throwing the head forward of the shoulders, placing weight on the sacrum and tightening leg and glutes.
With cycling ultimately we are sitting down, just like we do in the chair or at the desk. As a result, it is a good idea to understand the potential side effects and undertake an exercise programme that will undo some of the postural effects as well the muscular imbalances that cycling can cause.
Yoga is designed to return the body to its' natural biomechanical alignment which is why it is the choice of athletes from all disciplines to mitigate any negative effects of their sport. With hot yoga the heat of the heated room aids sweating, stretching and detoxification, it can help prevent injury and aid in the healing of existing injuries.
Our 75-minute Cycling Workshop has been designed by Fierce Grace founder Michele Pernetta and uses the FG system to bring a full range of motion to the entire body, combining cutting edge fitness wisdom and awakening dormant muscles by confusing habitual patterns.
Hot yoga is the perfect antidote to cycling which often tightens the hamstrings, quads and hips, and shortens the hip flexors. This contributes to a generally tight body with reduced joint mobility, potentially vulnerable or aching lower back, and upper back and neck tension.
The Cycling Workshop has been designed to provide both physical and mental balance. The class is tailored to directly target and support main problem areas such as back, shoulders, and hip, knees and ankle alignment, plus abs and arms. The heat and positions focus on releasing psoas, hip flexors, quads, glutes and hamstrings while strengthening muscles that support the joints, which will help to bring the body back to its optimum alignment.
In this 75 minute session you will:
- Learn how to open up your chest, ribcage upper back, and shoulders
- Stretch tight hamstrings, quads, psoas and hip-flexors
- Improve pelvic flexibility and stabilize and strengthen lower back muscles
- Bring hips, knees and ankles back into optimum alignment
- Release neck and shoulder tension and stretch out tired hands, arms and elbows
- Learn exercises you can practice at home to improve your cycling performance and prevent injury
Location: Fierce Grace Primrose Hill Studio
Date: Saturday 28th of April, 2018
Workshop: 2.45 pm to 3.45 pm
Workshop cost: £10
Optional Complimentary yoga class (FG) for first time visitors: 4.00 to 5.30 pm
Cost: £10 per person
Book: visit Fierce Grace Primrose Hill to book your space.