FAQs
All you need to know
Your burning questions answered.
Fierce Grace is a combination of Ashtanga, Classical hatha yoga, Iyengar, Power Yoga, injury modification and physiotherapy wisdom, blended with the latest fitness wisdom including "super slow" (strength) and interval training.
From our iver 20 years' experience we have taken the best from many yoga styles and combined them into a new system that allows the practitioner to tailor their practice to their needs.
We do not, however, perform vinyasa as it can be unsafe for the beginner or intermediate practitioner. We work on alignment in a slow sun salutation. We also do not perform headstand or shoulder stand in the general level classes for the same reason. We've also added core and upper body strengtheners, to ensure safety and stability.

Our aim is to combine the freedom and expression of ashtanga with the alignment wisdom and technique of Iyengar yoga but in a new way, with no ties to any set form or system.
Our classes are heated to 35-38 °C – a little cooler than Bikram and other hot yoga classes. We also have "warm" classes (30 C), for those who wish to have a 'lighter' experience. We love a heated room as it helps us stretch safely, but believe too much emphasis is placed on the heat. The heat is a support to your practice, not a thing in itself, and our yoga system of interconnected classes can be performed without the heat.
Apart from Fierce (Beast), all our expertly sequenced classes are suitable for all levels and our equally expert instructors will encourage you to modify to your ability, never go into pain, and work the way that suits you, beginner or advanced alike. If you're still struggling to decide where to start, here are some rough guidelines:
The best first class for someone new to yoga depends on your level of fitness and what you want to achieve, but here are some broad guidelines:
Out of shape newcomer
Goal: strength and flexibility - S.O.B., Deep Core, Classic
Goal: flexibility - Deep Core, IN
Goal: strength - Classic
Relatively fit newcomer

Goal: strength and flexibility - Fierce Grace, Classic, Primal, The Fix
Goal: flexibility - Deep Core, IN
Goal: strength – WILD, Primal, Fly, FG2
Fit newcomer

Goal: strength and flexibility - Fierce Grace, Primal, The Fix, Fierce aka The Beast (intermediate yogis only)
Goal: flexibility - Deep Core, IN
Goal: strength - WILD, FG2, Fly
If you're still unsure which class to try first, please get in touch with a studio directly who will be happy to help.

In the beginning its best to practise every day, or as much as you can, so your body cannot retreat back to its old ways in between classes. This means you won't get stiff, and it will get easier fast. However if you can't do that, just come as often as you can and do a variety of classes. To see optimal results beginners should attend 6 days a week, otherwise 3-4 classes a week will see excellent results. If this isn't possible doing something, even once a week, is better than doing nothing.

Our recommended beginners level programme is: 2 Fierce Grace, Classic, Primal or The Fix classes and one Deep Core, IN, WILD or S.O.B. class
Once you have become familiar with the above classes, a suggested 12 times a month practice could consist of: 3 Fierce Grace, 2 Primal, 1 Classic, 1 The Fix and a mix of 4 Deep Core/WILD/IN and an S.O.B., Fierce/Beast or Fly.
This system works best as a whole. Performing all the classes will leave no stone unturned in your body and mind.
If you are flexible but weak you would favour WILD, Fly, Primal, S.O.B. and Classic to bring stability and strength
If you are strong and tight you would come to more Deep Core, IN and Fierce Grace classes to bring flexibility and openness
The Fierce Grace class combines all the elements of the system so is the foundation class
We recommend drinking plenty of water in the 2 hours before class and advise you not to eat a heavy meal in the 1.5 hours before class so your stomach is not full.
If you have any questions about the class please ask at reception or talk to the teacher beforehand.
Tell the teacher if you have any injuries before class or when they ask at the start of class. Never work into pain. Always stay in your comfort zone.
2 towels - one to place on top of your mat, and one to shower with. Towels can be rented from our studio reception.
Bottled water – we sell bottled water. Feel free you to bring your own reusable bottle.
Yoga mat – bring your own or they can be rented at our studios and are free at select studios. Please check the individual studio page.
Wear something which is comfortable and allows you to move freely. We recommend:
Women - shorts or leggings and a sports vest or bra top
Men - shorts with or without a vest
Avoid bulky clothing as you will be sweating! Please do not wear underwear as yoga clothing.
All our classes should be practised with bare feet.
We ask that you arrive 15 minutes early to enable enough time to check in and get ready.
Class check in opens 30 minutes before – we ask that you avoid arriving before this time as several of our studios will not be open until half an hour before the class.
Always try to arrive at least 15 minutes before class so you can get ready and settled in the studio. Classes will start on time, and latecomers will generally not be admitted.
Please avoid using deodorant sprays and heavy cologne / perfumes.
The studio is a place to switch off - so please don't talk or bring phones into your class. Phone must be left in the changing rooms or lockers. If your studio does not provide lockers, please leave your phone and any valuables at the back of the studio or as directed.
If you're renting a mat, please place a towel over your mat when practising.
Stay in the studio for the whole class, just sit down whenever you need to - if you're new to the heat you will acclimatise over the course of a few classes - being able to work in heat is the sign of a healthy body! If you must leave, signal to the teacher, so they are aware, but never walk around if you're feeling dizzy. Let the teacher help you out.
Respect your fellow students by respecting the final relaxation and only leaving when the teacher states class is over and it's ok to go out.
After class, please feel free to continue relaxing and meditating. When you do leave, please tiptoe as quietly as possible so you don't disturb others.
Put your equipment back where you found it and hang our mat on the rails, unless directed to do otherwise. If you left sweat on the floor around your mat, please use your towel or the mop to wipe it up.
Breathe through the nose throughout the class
Sit down if you get out of breath or feel a bit dizzy. Join back in once you can breathe through the nose again.
Work to the level you're comfortable with, watch your ego - never work into pain, your practice should be challenging but pleasurable
Stay in the studio for the whole class, just sit down whenever you need to - if you're new to the heat you will acclimatise over the course of a few classes - being able to work in heat is the sign of a healthy body!

No – not at all. Fierce Grace is designed for everyone, whatever your level of fitness or flexibility. If you are not fit or flexible, this is the perfect place for you to become so. We have a very non-judgemental atmosphere. Everyone is encouraged to work at their own pace, and there is no pressure to do more than you are comfortable with.
Our instructors are trained to help you modify the poses and ensure you can practise without pain. They are happy to work with you. Just let them know before the class. Please watch our video on back and knee injuries before attending class with these issues. These are located on our website here. Then come to class and tell your teacher before class about your injuries.
Our S.O.B. class is specially designed for those who are injured and need to learn modifications and how to work with them. This will give you the tools you need to feel confident attending the other classes and staying safe. Classic and Deep Core are the best if you are not used to working with your injury, and once you feel more confident Fierce Grace, The Fix, and IN are also fine. Our teachers will help you if you need tips or modifications.
All FG teachers are trained to safely teach pre, post and pregnant clients. We do not allow anyone to practise during their first trimester. For the rest of your pregnancy you must be signed off and approved to practise hot yoga by your doctor. If you have not been practising hot yoga regularly for a year before your pregnancy we would not suggest starting whilst pregnant, but waiting until your baby is born instead.
If you are a regular practitioner, used to the yoga, and then become pregnant, with your doctor's approval after your first trimester you can come to our softer classes, or our warm classes, and we will give you pregnancy modifications. These modifications will stay in place for 6-9 months after you have given birth.
FG welcomes anyone from 8 years old and up, if they are motivated to come, and can stay focussed for the class.
Registration should be made by a legal guardian/parent and the legal guardian/parent (over 18 years of age) must practice with the minor and accompany them at all times whilst on the premises.
Minors should practice next the parent/legal guardian and near to the podium.
At FG, everyone is welcome to use the changing room and showers of their gender identity, or the gender identity they feel most comfortable changing and/or showering in. We are limited structurally in our ability to provide permanent gender neutral spaces at present at some of our studios, but are working hard to come up with solutions to provide private spaces for those of any gender identity to use. We are currently able to provide the following gender neutral spaces and/or private spaces that can be used by those of any gender at the following studios: Fierce Grace North - gender neutral toilets and changing space; at Fierce Grace City, Primrose Hill and West private changing spaces for those of any gender can be provided at request, subject to availability. If you require a private space please email us ahead of visiting or talk to a member of reception when visiting. We are working hard to make our studios as inclusive as possible in the future and welcome any feedback on what we could provide to help you feel comfortable when visiting us, whatever your gender identity, so please do not hesitate to get in touch with your studio directly by email or phone with any feedback.
All of our studios have changing rooms and showers. We have to rent, towels and mats and we sell water. Some Fierce Grace studios have lockers – and valuables may be left at reception or taken into the studio. This information can be found on the relevant studio page.
Please see the relevant studio page for parking availability.
Pricing and memberships are specific to the studio you purchased at, with the following exceptions:
Intro offers purchased at either Fierce Grace City, West and North may be used at all three studios
Memberships, class packs and drops in purchased at Fierce Grace City and West may be used at Fierce Grace City, West and North
FGTV Live and On Demand are also priced separately.
Please contact the Studio you practise with directly by email.
For FGTV you can cancel in My Account on tv.fiercegrace.com
If a class is fully booked you have the option to be added to our waitlist. You can see your position on the waitlist by logging in and visiting your schedule. You may also cancel your place on the waitlist from here. Payment is required to add yourself to the waitlist, but this will be returned to your MBO account if you do not get a space.
If enough spots become available and you are moved off the waitlist you will be automatically added to the class and a confirmation email will be sent to you.
However, you will not receive this email if you are opted out of receiving Schedule Updates from us.
To switch these back on, please log in to your account and tick the Schedule Updates email box. If you would like to be notified by text, please also click the text message option and ensure your mobile phone number is added and up to date in your account.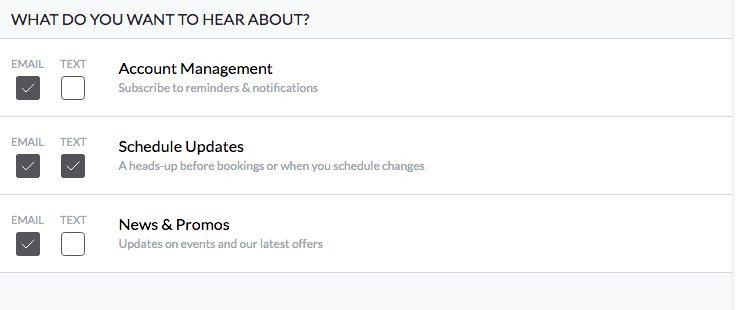 Bookings not cancelled 2 hours before class will be charged for. If you are on an unlimited package, you will be charged £12 for a late cancellation or no-show.
Visit the schedule of the studio you have registered with and click the 'My Account' option to view the details you've registered with us, purchases/passes and previous/upcoming class bookings.
Visit the schedule of the studio you have registered with and click the 'My Account' link. Select the schedule option where you can cancel your class.

Click login and select the studio you have registered with and click the 'Forgotten Password' link.