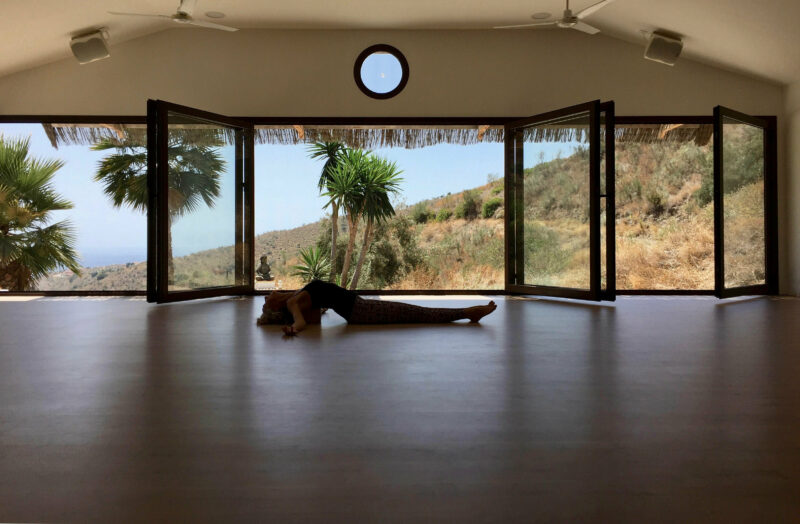 Rincon de la Victoria, near Malaga
A Fierce Grace Yoga Retreat set in a secluded boutique Andalusian hotel featuring one of the most stunning yoga studios in the world.
Located in the peace of the Spanish countryside, and yet conveniently only thirty minutes from the airport and a short drive to the beach, you can immerse yourself in the silence of nature in the sub-tropical gardens and surrounding hills. It is the perfect setting for yoga and meditation. A salt water swimming pool, beautiful rooms and a Yoga Wall for weightless traction. This beautiful venue has been mentioned in The Times as one of Europe's best yoga and wellness centres.

We love this venue so much we come back year after year. A beautiful outside chill area allows for mingling, candle-light conversations and reading. Enjoy dining with local Spanish food, wine and desserts, treat yourself to massages and treatments, and as usual our relaxed no judgement vibe attracts people of all ages and abilities.

Classes on this retreat will be taught by Fierce Grace founder Michele Pernetta and her senior assistant and are suitable for all levels.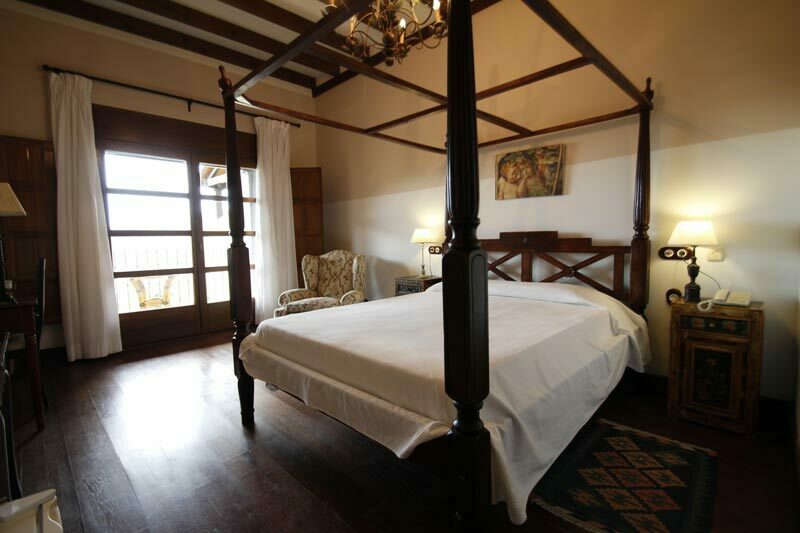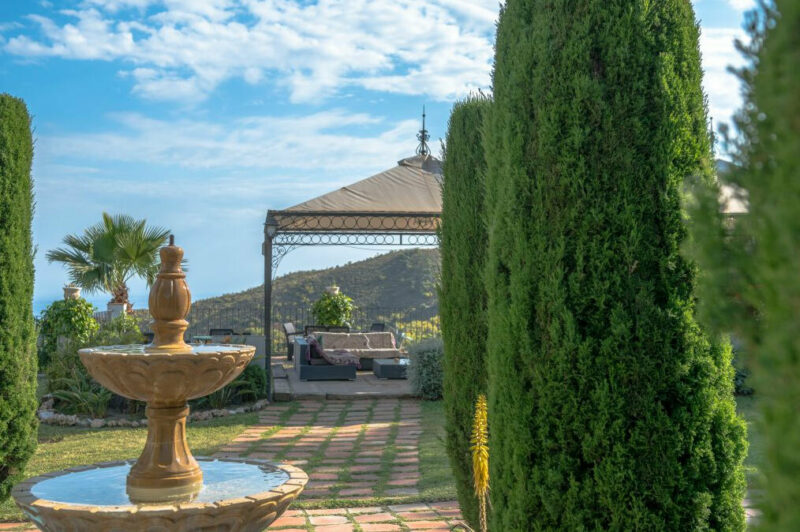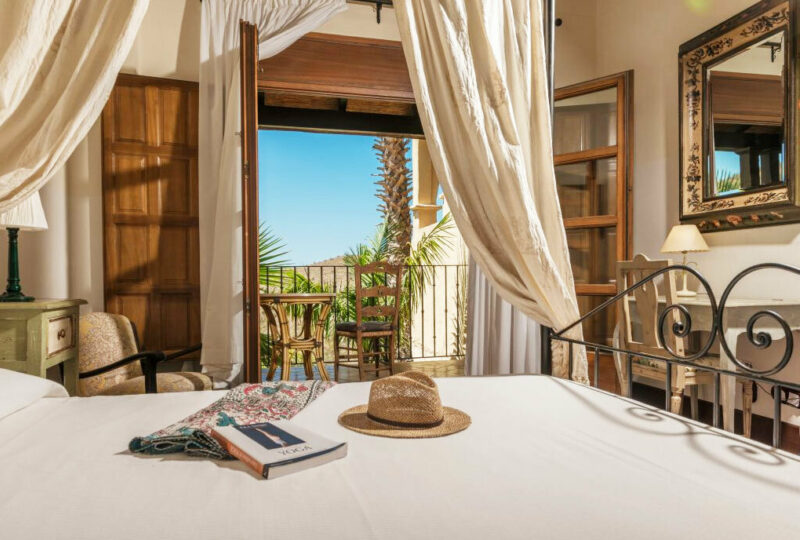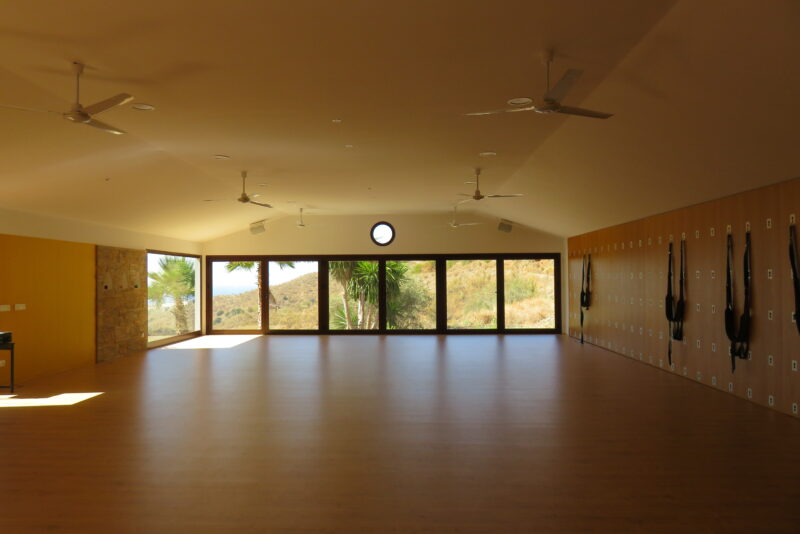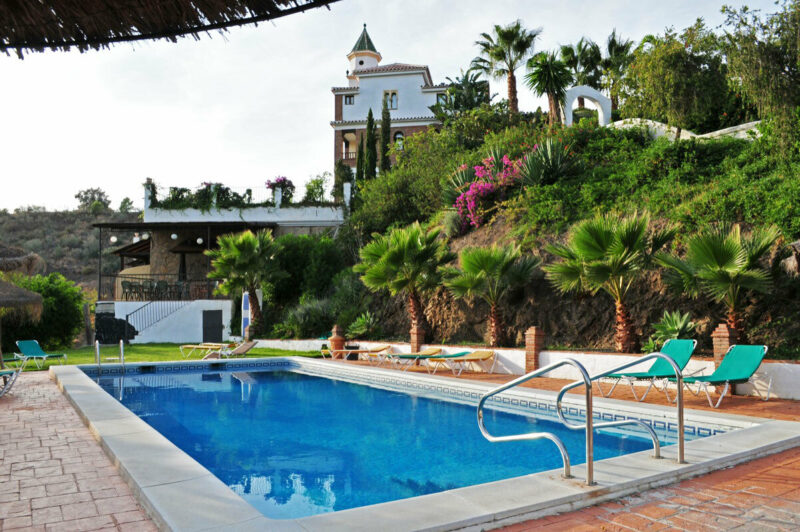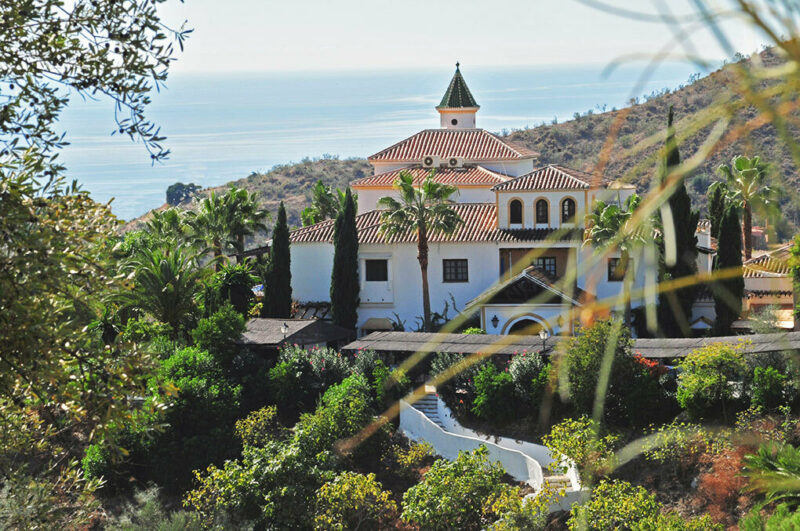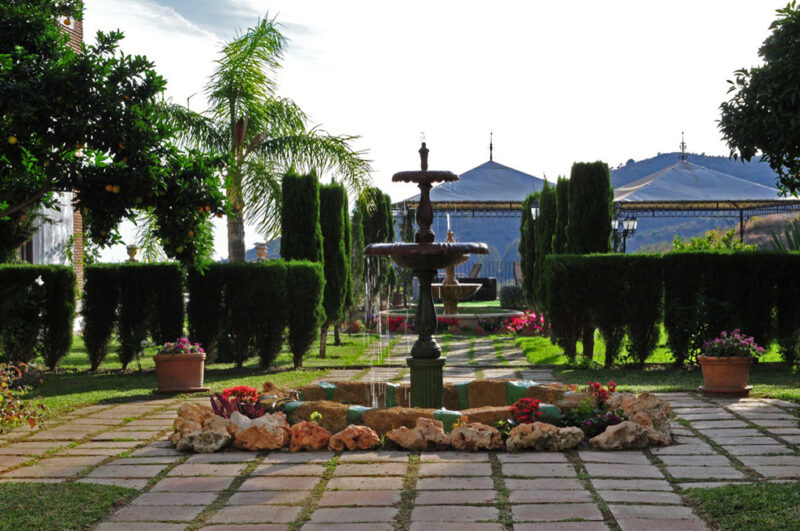 We take over the whole of this luxury, boutique hotel for privacy, quiet and seclusion. Rooms have ensuite bathrooms and great views, some with a private balcony. Twin, Double and King rooms available, Deluxe suites, and limited Single occupancy available.
A salt-water swimming pool, manicured gardens, terraces with views and one of Europe's most beautiful yoga studios makes this the perfect destination for a yoga retreat.
The indoor studio has fans and walls that can be opened to allow the sea breeze to waft through. It's also equipped with a yoga wall used for deep stretching and facilitating weightless poses. It helps create opening and space within the body, leaving you feeling as light as air.

Details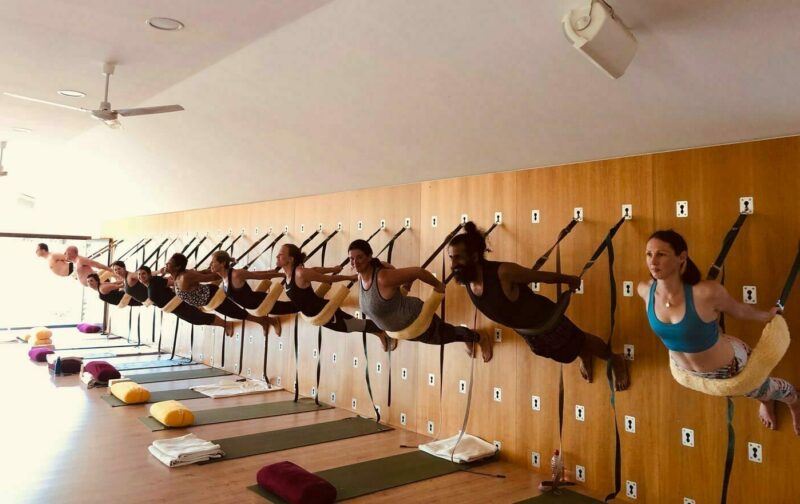 Dates
Our next Spain retreat takes place 13th - 20th August 2023.

Prices

Double Occupancy - £1,450 per person for a beautiful shared room with ensuite - bring your partner or a friend
Single Occupancy - £1,800 for room with ensuite - please book early as single accommodation is limited
All Rooms have ensuite. All have private balcony/patio (except one that doesn't have a balcony but spectacular top floor views and extra space.)
To secure your place, please download a booking form below and email to [email protected]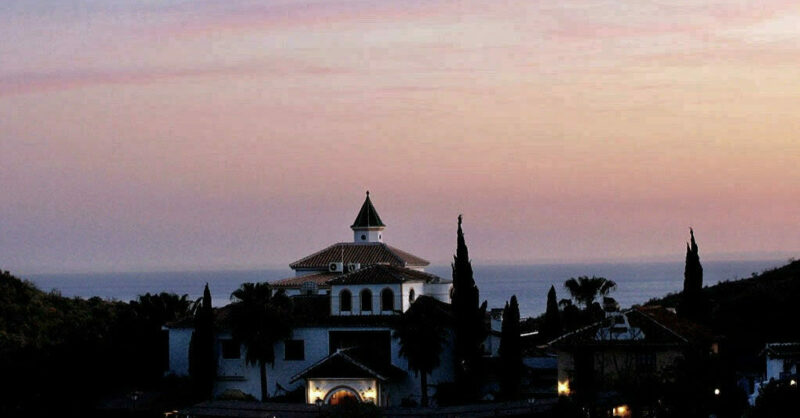 Excursion Package
Optional excursions include:
Optional visits to nearby beaches and towns, hikes, horse riding, river walk.
A night out in Marbella old town for paella and shopping
Trips can also be arranged to your needs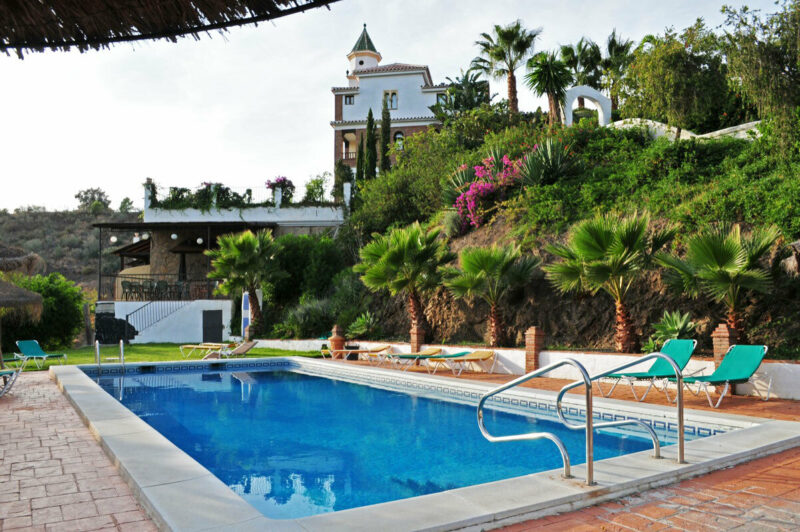 On the Retreat Enjoy
All the Fierce Grace classes with personalised instruction from Fierce Grace founder Michele Pernetta, one of Europe's most highly regarded and experienced teachers
A 3-hour alignment workshop as well as personalised instruction, adjustments, meditation and breath sessions, partner stretching and other surprises
The saltwater swimming pool
Massages from expert therapists can be booked on-site (approximately €60)
Gourmet food and treats
Stunning surroundings and optional trips to nearby beaches and towns or a night out in Marbella old town.
Large outside chill area with stunning views
A judgment-free atmosphere, enjoy a drink or two and a lie-in!
NOT INCLUDED
Flights
Airport transfers (arrangements for airport transfer can be made. When booked in advance, the charge is approx EUR 40-60 per journey depending on whether you are grouped with another retreatant. Payable in cash on arrival directly to the driver in euros.
Any optional dinner out, and transport to Marbella approx EUR 20-40 per depending on how many people go.
Alcohol - there is an Honour Bar system for beverages of your choice.
Travel Information
By Air

The nearest airport is Malaga (30 minutes away). Arrangements for an airport transfer can be made and a driver will meet you at the airport. When booked in advance, the charge is EUR 50 per journey. Payable in cash to driver on arrival.

By Train
The nearest train station is Renfe and is 26km away. Arrangements for transfer can be made and a driver will meet you. When booked in advance, the charge is EUR 45 per journey. Payable in cash to driver on arrival.
By Car

Driving directions and latitude and longitude details available on request.
What People say
Natasha Bloom
"I felt like a child rather than a 40-something! One of the key things that makes Michele's yoga holidays stand out is the freedom to be yourself, indulge yourself and take part or sit out in a no judgement environment. On the final night there was a banquet and party that sent us home the next day on a high with fond memories, new friends and in my case a teeny weeny hangover! I'd highly recommend this retreat, you won't regret it."
Irene Eckhart
"It is very simple. The Malaga retreat showcases the total awesomeness of an FG retreat: One week with Michele and one of her amazing senior teachers full of no-nonsense yoga with great instructions, trips, good vibes, time to meet new people, talk, laugh, chill and enjoy the fantastic food and wine. Your body and mind will agree that a holiday is hardly better spent. Just one word of warning (and I am talking from experience): This stuff is addictive and you may find some friends for life and want to take many of these retreats."
John Carter
"As an intrepid solo traveller I find Michele's retreats a great way to travel, have fun and get fit. The Spain venue is a beautiful hotel in a great setting and has a fantastic indoor yoga studio with great views. There is plenty of down time and a great mix of people with an informal fun atmosphere. The emphasis is on "holiday" rather than retreat, in that there is great food, wine, and even a special last night dinner with cocktails, although there is plenty of space to disappear off and be alone, nap, chill and relax, as there is no pressure to do anything in particular, except enjoy a relaxing vacation getting fit."
Elizabeth Cook
"The perfect holiday! A full relax with whole-body laughter, delicious foods and outings out to explore. The yoga is top notch, perfect for all levels and extra fun with the yoga wall! You feel spoiled by the staff, gorgeous destination and no judgement atmosphere. I absolutely enjoyed ample chocolate, wine and local spanish chorizo. It's so refreshing and joyful to find this holiday. I traveled alone, made new friends and felt in the best of good company! I came home feeling like I had been away for a month and reinvigorated on every level. I'm dreaming of next year already!"
Contact us about Rincon de la Victoria, near Malaga