Private Yoga Classes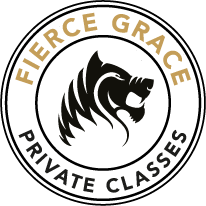 Invaluable one-on-one tuition
Book a private yoga lesson with one of our experienced Fierce Grace teachers and take your practice to the next level. Learn modifications that are right for your body and get invaluable one-to-one tuition to help you achieve your goals faster.

To find out more or book, please contact us using the form below and a member of the FG team will be in touch.

All in-studio classes include 2 towels, water and mat rental for each person.
We also offer private classes in the comfort of your own home via Zoom.

Take a one-to-one with your favourite teacher or get a group of family or friends together for a private class.
Online privates via Zoom are currently 30% off our regular prices.
Book Session
Private Class Rates
Staff Teacher: One-to-One
2 hours £120 / 75 mins £85 Online: £84
A one-to-one with one of our experienced staff teachers
Staff Teacher: Group up to 5 people
2 hours £150 / 75 mins £98 Online: £105
A class for up to 5 people with one of our experienced staff teachers

Senior Teacher: One-to-One
2 hours £150 / 75 mins £98 Online: £105
A one-to-one with a senior Fierce Grace teacher
Senior Teacher: Group up to 5 people
2 hours £180 / 75 mins £117 Online: £126
A class for up to 5 people with a senior Fierce Grace teacher
Michele Pernetta: One-to-One
2 hours £240 / 75 mins £156 Online: £168
A one to one with Fierce Grace's founder
Michele Pernetta: Group up to 5 people
2 hours £300 / 75 mins £195 Online: £210
A class for up to 5 people with Fierce Grace's founder