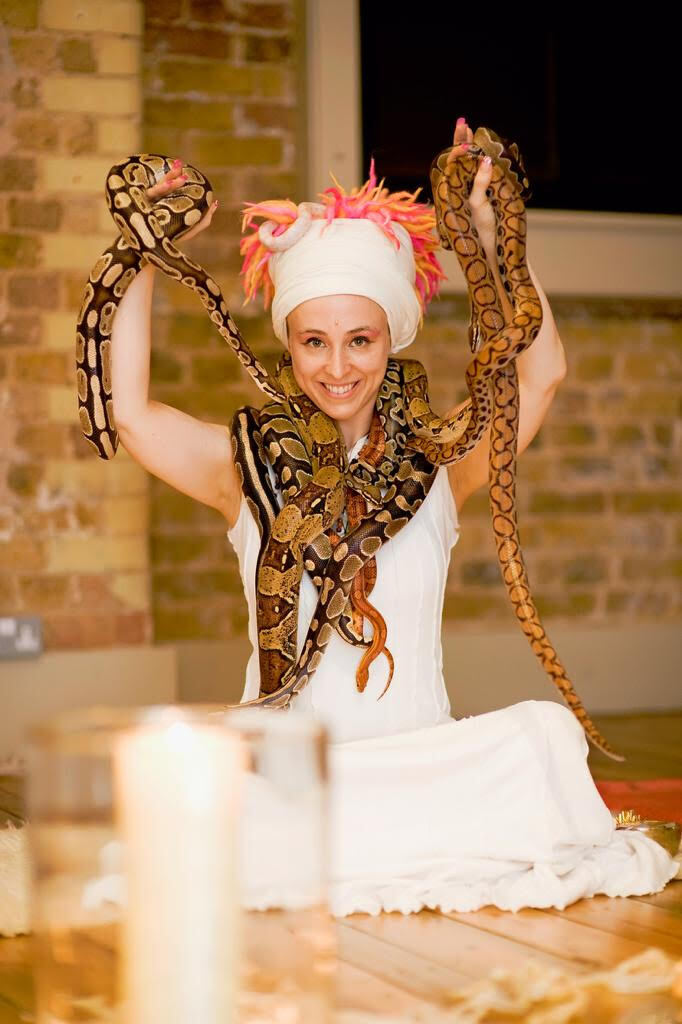 With Kwali Kumara
This exciting offering is an introduction to Kosmic Kundalini and Galactic Gong activation. Take a deep dive into ecstatic mantra and celestial dance. You are invited to stay from 9-9.30 to experience Darshan with Live Serpents, a form of moving meditation that includes sacred mudras and chanting in the holy language of Gurmukhi.
Indulge in a transformational sacred sound ceremony with triple Gong and a host of other Shamanic Instruments to take you on a sonic healing journey through the chakras. Serpents have been misunderstood for many lifetimes in the western civilisation. However in other cultures they are revered as Gods or living Avatars of the ancient wisdom teachings.

Join Kwali Kumara for this inspiring evening of Kosmic Kundalini and learn more about serpents and what they represent. Overcome your anxieties and turn your fear into love as you develop a deeper understanding of these sacred creatures. Learn how they are a living embodiment of the Serpent Energy that resides within each of us. Kwali has devoted her life to rescuing snakes and houses them in her snake sanctuary.

In yogic philosophy serpent power is known as the Kundalini Life-force, Adi Shakti or Primal Power. Explore this phenomenon and meditate with Kwali and two of her Serpent ambassadors from her 'Plumed Serpent Sanctuary'. Transmute negativity and enter into a symbiosis of healing with her mystical snakes. Celebrate our deep connection with Gaia in the company of her sovereign serpentine symbols of enlightenment.

Everyone is welcome, particularly those who are apprehensive of serpents. The line snakes will only appear at the end so those not wishing to see them are invited to leave at the end of the first section at 9pm.

Kwali holds a full license and insurance to work with her rescued reptiles in this way. The serpents will remain with Kwali throughout the experience and in their basket throughout the sound journey. This will ensure that those who are feeling a little anxious about their presence can rest assured that they will not be invited to commune physically with the serpents on this occasion.

Cost: £39 / £29 for Monthly Members
How to book: Book as normal via the Primrose Hill schedule