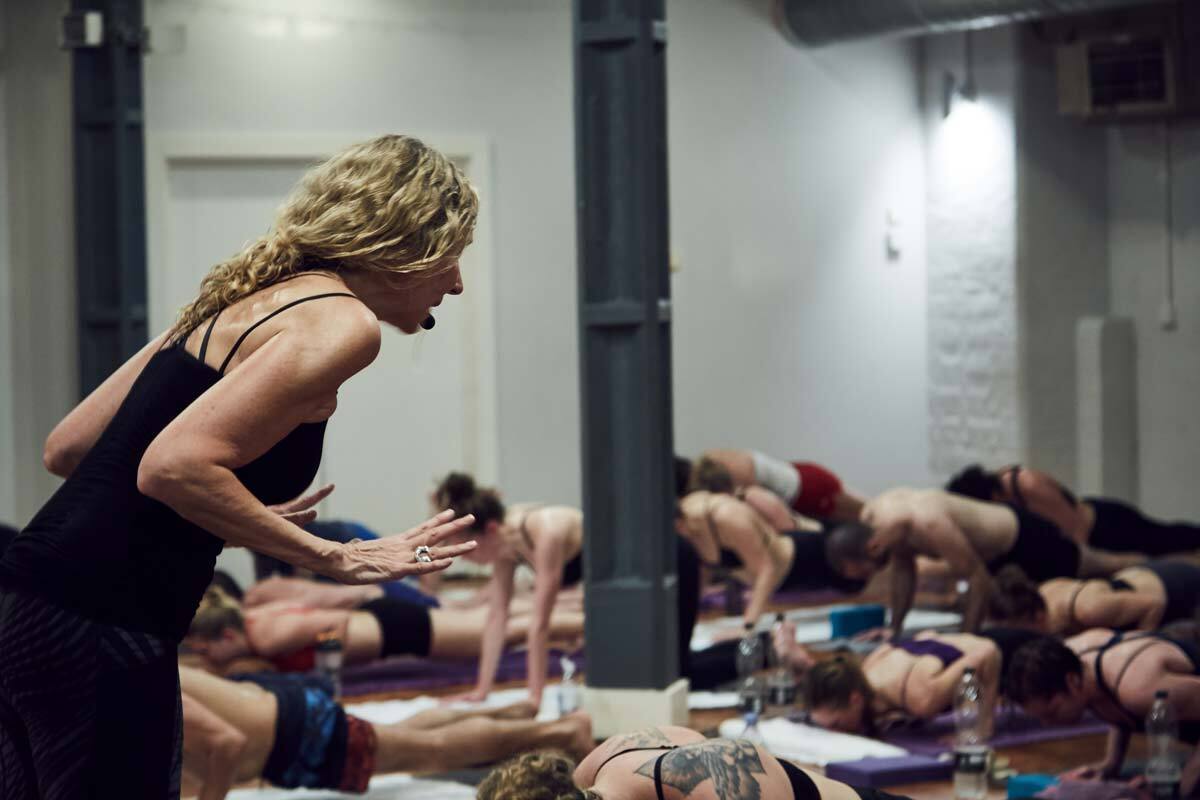 Join us in March for our brand new, best yet in-person and live/online hybrid 200 Hour Yoga Teacher Training Course
Date

4th March - 31st March. Three 2 day weekends in a row (4th-5th/11th-12th/18th-19th), 2 Wednesday nights (8th, 15th) + 10 days in person in London (21st-25th/27th-31st).

Times

Full days approx 9am-6.30pm / Evenings approx 6pm-8pm. Final schedule will be provided upon acceptance.

Locations

4th-19th live online / 21st-31st in person at Fierce Grace North London
Add to calendar View map

Share
All the intensity, cameraderie and personal interaction of an in-person training, (without taking a month off work/home life) combined with weekend live online sessions from the comfort of home. Take classes with our experienced tutors, get hands on adjustments, personal voice and delivery coaching, study and review our online materials at your leisure and to your own schedule.

WEEK 1
ONLINE - Sat 4th and Sun 5th
ONLINE - Weds 8th 6pm-8pm
WEEK 2
ONLINE - Sat 11th and Sun 12th
ONLINE - Weds 15th 6-8pm
WEEK 3
ONLINE -Sat 18th and Sun 19th
IN PERSON - Tues 21st - Saturday 25th
WEEK 4
IN PERSON - Mon 27th - Friday 31st

(Those who can not travel to the in person intensive, please talk to us about participating for these 2 weeks on livestreamed zoom and taking the course all live-online.)
We believe this is the perfect solution to getting your Yoga Certification, with the best yoga leaders in the industry and the highly regarded user friendly, 12 class Fierce Grace method.
DYNAMIC - Get the lively interaction of the group, your tutors' personal attention, corrections and the support of your peers. Teach live in person students, see how different body types perform different poses, and gain insight into your own postural habits. Practise teaching methodology and injury modifications in person in interactive hands on sessions.
TECHNICAL EXCELLENCE - Learn the technicalities of yoga asana, anatomy and yoga philosophy with live sessions on zoom from home. Lectures and teaching practice online with feedback and explanations from some of the most senior tutors in the UK.
UNRIVALLED RESOURCES - Michele our founder and one of the UK's most influential yoga leaders has pre recorded in depth tutorials about all the 68 poses, modifications and transitions you will be learning on this course. These materials will be available for you to view, re-watch and learn from for the duration of the course,
Join the world's fastest growing Yoga Movement
We are a hybrid yoga style - the best of ashtanga, Hatha, Bikram, Strength and fitness wisdom, physiotherapy and Yin. Now we have the perfect Hybrid formula to deliver you one of the worlds the best 200 hour trainings, with some of the UK's most experienced tutors, and with access to our unsurpassed online materials.
Having delivered 6 online/hybrid certifications we believe this combination of learning modalities; - half online in-person, to study and learn, and half live in-person to put into practise what you have been taught, within a supportive group environment, gives you the best of all worlds.
Visit our Teacher Training page for more information about the course, including the syllabus, or apply here.